Britta Schuessler Therapies
Mission Statement
All of my work aims at assisting people to feel more empowered and enhance the quality of their experience of life.

Do you need counselling?
Does this sound familiar to you?

You suffer a lot from stress or anxiety.

You suffer panic attacks.

You suffer from depression.

You feel distressed easily.

You cannot control your anger and feel out of control.

You feel overwhelmed and cannot concentrate.

Your find that you do not sleep well a lot of the time.

Somehow your find there are always a lot of difficulties in your relationships.

You have an addiction or a compulsive habit.

You suffer from phobias.

If any or all of these symptoms apply to you, you might benefit from counselling, trauma therapy or learning how to practice mindfulness. Get in touch if you live in Stirling, or Stirlingshire. My contact details are at the top of every page. You can also go here, to find out more about what you can do to alleviate anxiety and here for depression. Or go here to find out when I run my next mindfulness course.






If you are not sure yet, have a look at who I am and what I do. You can also find out more about whether you are affected by trauma by looking at this page here.

You might have already made up your mind that you want to take this further. If this is so and you want to find out about the length of my sessions and other practical questions, please go here.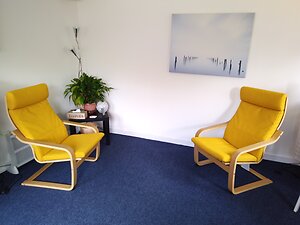 My name is Britta Schuessler and I have been practising as a counsellor since 2003. I am committed to providing counselling, coaching and trauma therapy in a safe, confidential and non-judgemental environment. I work with individuals on an open-ended basis or for an agreed time-period, with the aim of enabling you to enhance your life and to live it more fully.
Have a look at my What do I offer? page to learn more. To the right you can see what my room at the Stirling Business Centre looks like.

I have several years of experience running group work on issues like:

Mindfulness

Managing anxiety

For information on my Privacy Policy please go here.






Testimonials
Here is what clients have said about me (printed with their permission):

I originally started working with Britta when going through a very difficult time in my life and, as well as really listening, she suggested coping strategies and practical techniques (including breathing and mindfulness) to deal with some of the immediate issues I was facing. Her holistic, calm and compassionate approach helped me to get my anxiety under control and rebuild some confidence in myself. More recently, I noticed a build up of stress and return of some negative feelings and reactions, so went back to work with Britta both on current issues but also to process some of the underlying trauma I had experienced both in adult life and as a child. This has strengthened my resilience to deal with the inevitable challenges that come up in life, as well as regaining a stronger sense of myself and ability to set healthy boundaries. Sometimes just talking through things isn't enough; by also processing the emotions held in the brain and body from past experiences, difficult situations and triggers no longer have such an effect and I can focus on the present and making the most of my life. JM, Stirling, Aug 2023

Thanks to Britta I have been able to work through some very difficult experiences such as a major bereavement and traumatic events in my childhood which were having a detrimental impact on my life and relationships. Britta's compassion, empathy and understanding was paramount in helping me process and resolve these issues. I am now feeling more balanced, content and resilient, which has had a profound effect on my every day life and happiness. Thank you so much Britta! Rebecca Pfister, August 2023

I attended counselling sessions with Britta over a 15 month period and seeing her was one of the best decisions I ever made.
Years of trauma and multiple bereavements had left me hollowed out, feeling lost, emotionally numb and exhausted. It seemed at times I was barely functioning. I truly needed help to find myself again and heal. Fortunately, it was my great good luck to find Britta.
Britta is both a healer and a teacher. From the beginning I felt comfortable and at ease with her openness, warmth, kindly directness and sense of fun. Quickly I realized I was in the hands of someone with a great depth of experience and knowledge and who had a wide range of techniques in her tool box. Thank you Britta for:
- Creating a safe space for me and teaching me self compassion, instead of self blame and guilt.
- "holding" me in my grief in those early sessions.
- Knowing exactly when it was time to start the trauma work which I so desperately needed.
- Helping me make the connections between early life (childhood) decisions and how they impacted on my later decisions and behaviours and how I could redecide (very liberating).
- Teaching me a range of helpful exercises to practice.
- Journeying with me through the trauma and pain and in so doing enabling me to get through to the other side where I am now able to reconnect with my self again and reengage with life.
May you continue doing the good work you do with others, Britta.
Agnes, February 2022.

I was receiving counselling from Britta for around 15 months. What struck me about being with Britta was her ability to create a space where I felt safe. This allowed me to be myself something I had previously found difficult. While being myself Britta was able to come up with counselling tools and techniques that gave me the opportunity to deal with my issues. This was not plain sailing as Britta would at times challenge me and this reassured me that I was being truly listened to with Britta having my best interest at heart. During my time with Britta, I experienced emotions and feelings that I had never known. I once commented "if you could just bottle what I'm feeling". I felt empowered and in control which has left me in a much better place. I still use the skills and techniques I have learned throughout my time with Britta, and I would like to say to anyone considering counselling give Britta a phone it may be the best call you make. Stevie, Falkirk August 21

Working with Britta over the past 3 years has been a truly transformative experience. She has helped me to heal to a point where I feel ready and equipped to embrace life. When I met Britta 3 years ago I was in the depths of a severe depression feeling lost and hopeless. I had no clarity about my life, and I struggled to navigate my way through difficult emotions. Together, we have addressed a lot of the underlying trauma that was keeping me stuck, and now I can say that I am enjoying the best mental and emotional health of my life. I would not hesitate to recommend Britta to anyone. She is the most genuine and talented therapists I have ever worked with. I will be forever grateful to her for helping me to move forward in my life with a renewed sense of hope, focus, enthusiasm and optimism. Thank you, Britta! - Lauren, August 2021

Britta has worked with me for around a year since the height of the Coronavirus pandemic addressing anxieties which were hindering my personal and professional life, all of which were amplified when global issues required a huge change in lifestyle, daily routine and the ability to connect with others. My reading of the world was often skewed by historic experiences and being able to read into these and understand how they impact in the longer term has been really enlightening. Britta has a range of skills and quite a toolbox at her disposal; for me a combination of mindfulness exercises along with deeper processing of personal trauma have really turned things around and restored balance in my life during these uncertain times. I would recommend therapy to anybody - it is a really important investment in yourself - and Britta in particular is extremely approachable, caring and intuitive. Needless to say, I wouldn't hesitate to work with her again in the future. - Ryan, March 2021

It was an absolute pleasure working with Britta. I had seven sessions with her and felt an enormous shift in my confidence and outlook on life. I came to her feeling exhausted from being triggered constantly by the world around me and by session seven I was calm and relaxed. I now have a real sense of clarity about who I am and can now fully embrace 'me' which is a new and exciting experience. I can't recommend her enough. Thank you Britta (Louise Darcy, June 20)

There is no doubt that examining and working with the inner world can be very challenging, even frightening, but Britta has a wealth of experience to help you to do that safely and at your own pace. Her genuine love, care and investment in my progress, along with her wicked sense of humour, are what made my growth possible. Today I cope well with uncomfortable emotions, can more easily set boundaries and have developed a self-care habit, all of which seemed impossible twelve months ago. I unreservedly recommend Britta for anyone caught in that unhealthy spiral. Her work truly is transformative. (Beverley Hooper, September 19)

I worked with Britta for 18+ months and the progress I made was brilliant and this is mainly based on how good Britta is. Britta is very approachable and I found her very comfortable to be around which helped me relax and open up about things. Britta is also very down to earth and has a great outlook on life and the persona can rub off on you during sessions. Also very adaptable and will try very hard to meet your needs. I am having a break from my sessions to enjoy the progress I have made but I will be back in the future to carry on where we have left off. Many many thanks to Britta). (Allan Mill, August 19)

I used Britta's services after a period of loss - in fact, several losses had come one after another. I broke down at work one day, and during those moments I gave voice to the loss that I felt. It's like something inside me was experiencing things, but not getting to comment on it. I realised my current approach to life was not giving this inside world a voice, and if I didn't find a way to give it room, I would no doubt break down again, when next under pressure. This had to change. I have a scientific background, and a logical approach to things. Any therapy I chose would have to acknowledge the science of the human body, particularly the brain. It would also have to make sense to me, even if it taught me new things. Britta combines knowledge of the brain and body with methods to allow the emotional side of the brain to give voice to what it knows. The brain knowledge was familiar to me. However, the methods to manage the emotional side of experiences were new. I found that when I followed Britta's leading, at first I would not understand how a method worked, but once I experienced it I could see it worked. Also, Britta has no qualms about discussing and explaining any of her methods. I found the practice and the subsequent explanations very helpful. I highly recommend Britta to anyone experiencing strong emotional reactions to current events or to memories of past events. Britta gave me the space to voice what needed to be voiced. Now it's been heard it can rest its case. There's a new sense of quiet about some events that had been with me for years. Britta also gave me methods I can use ongoing. They proved very practical as the losses continued to happen throughout my time with Britta. I know I'm in a much stronger place than I would have been otherwise. Britta also opened up to me the practice of mindfulness. Loving books, I'd read about it, and assumed that's all there was to know. Britta demonstrated it to me. I started to see real changes to the way I reacted to daily living. I realised by reading about mindfulness I didn't know anything about it. Her mindfulness practice is a tonic against stress and anxiety. Have no doubts, she holds real keys to peace.
(Lesley Bullbeck, May 18)

When I started to work with Britta, my life was mostly determined by anxiety caused by unprocessed trauma. I was desperate and felt like I am not living my life anymore. Britta helped me to find back to my myself without being afraid of it anymore. She helped me to understand the pattern of my motivation and we uncovered the world inside of me, with all the different parts that define a person and especially those, that were ignored and caused over time this unbalance I found myself in. What I most liked about working with Britta is that she finds the EXACTLY right way to approach you, no matter what. She knows so many different techniques that I always felt comfortable! (Kristina U., July 2017)

Britta has literally turned my life around. I had been struggling with stress and anxiety for such a long time that I was sceptical that anything or anyone could help me.
It took time and courage for me to make that step and I only wish that I had did so sooner because I feel like the old me again after only a few months worth of sessions.
Britta has provided me with tools and techniques that'll I'll be able to use for the rest of my life to keep my stress and anxiety at bay.
I won't hesitate to use Britta again in the future.(Robert, Falkirk, May 2017)

I worked with Britta for a few months during a time of high anxiety and in order to help process some previous traumas. Her calm, caring and professional manner enabled me to adopt a calmer and more pragmatic approach to work and life. I have been able to step off the emotional rollercoaster I was on and am now much happier and more confident. I saw my time with Britta as an investment in myself and my future and would not hesitate to return to her in the future or to recommend her to others. (Gillian Macadam, Alloa, November 2016)

Britta has helped me to come to terms with the trauma and stress of losing a loved one. I feel I am now much stronger and more able to cope with life's challenges thanks to Britta. I found her approach to be empathetic, non-judgemental, supportive and encouraging. She employed a range of techniques and methods to deal with the different problems I am facing and has given me the necessary tools to help me to continue to improve in the future. (Stuart Gibson, Tillicoultry, October 2016)

"Britta is a wonderful (wise!) woman who helped me throughout a difficult period of anxiety and relationship issues. She puts people at ease, she is a great listener, and the best thing for me is her ability to steer conversations and pick up on what's important to help people. She is not fanatical about any particular approach - we tried different therapies and sometimes I even just went in and talked. Her experience and calm nature make her an ideal counsellor and I would heartily recommend her to anyone. " (Steven, Stirling May 2016)

"I began to work with Britta Schuessler last summer when I was suffering from depression and anxiety. We decided that my recurrent low mood came from old trauma and not just from a recent bereavement. Britta offered me the opportunity to use her somatic techniques for clearing trauma and I found this to be most effective.The method is non intrusive and feels very safe as it is based on breathing and listening to the body rather than on conversation. The body goes at its own pace and is not threatened. I found the process to be deeply relaxing as well as illuminating. Over a surprisingly short period of time first my depression lifted and then my anxiety cleared. I can highly recommend Britta Schuessler as a therapist. " (Jenny, Glasgow February 2016)

"Britta was always the professional , great to work with, made me feel so relaxed, easy to communicate with. Britta is a great listener and really understood me. I would definitely recommend Britta in a heartbeat." (Debbie Young, Glasgow , September 2013)